We have given away almost 2,000 computers.
This year we want to double that !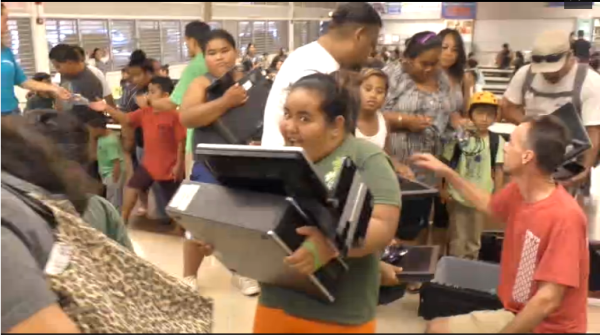 On Tuesday May 16th, 2017, we gave away over 200 computers to the kids of Palolo Elementary School. Every child in the school got a computer
- for the kids to take home - not for the school.


2017 Was a pretty good year for us. In just 3 events, we gave away about 450 computers. In total, we have given away almsot 2,000 computers. Here is the thing. we KNOW, we can do so much more. We know we can dwarf that if we really try, and if we get your support.
This year we are looking to accomplish a whole lot more. One of our goals this year is to move into a new warehouse.
Last year just ONE of our donations was of 525 full computer systems ! That was part of a donation of over 10,000 items in total
(chairs, desks, file cabinets, etc). Our current facility is simply too small to continue, for how fast we are growing. Do you have any idea how much space 525 computers, monitors, and other items take up ? Oh, did I mention we already had 1,000 computers in stock when we got that ? So YES ! we are hoping to move to a new much larger warehouse.
People often ask - "What do you guys do with all of those computers you get as donations ?"
Our Answer ?
We change lives.
Consider what this donation means to the children receiving the computers : How many of those families would be able to afford to purchase a computer for their child's education. We just flooded a low income community with technology that can help them completely alter their life paths. What impact will this have on that community and the individual students over the next 5 years, 10 years and even their lifetime ?
To date we have given away over 1,500 computers, and, we plan to give away thousands more !
If you believe what we do is has a positive impact, please consider making a financial donation on the right side of the page. Every dollar counts !
About Hawaiian Hope :
* Hawaiian Hope is a 100 % volunteer organization. We have no paid staff !
* Hawaiian Hope has NO government grants of any kind. So, Yes, Every dollar you donate goes a long way !
* Hawaiian Hope Org is a fully qualified 501(c)(3) non profit organization. Donations are Tax deductible.
* We are looking for a new home base of about 5,000 square feet.
* Our Internet Cafe Business plan won 3rd place in a non profit business plan competition against 57 other organizations, many with much larger financial backing.
* In our Internet Cafe, We had over 15,000 people through our front door in 6 months.
* Our Internet Cafe kept about 30 kids a night off the street and from getting into trouble.