Last Christmas, we gave away 60 computers to homeless and low income kids. The kids yelling with excitement, and adults crying with tears of joy.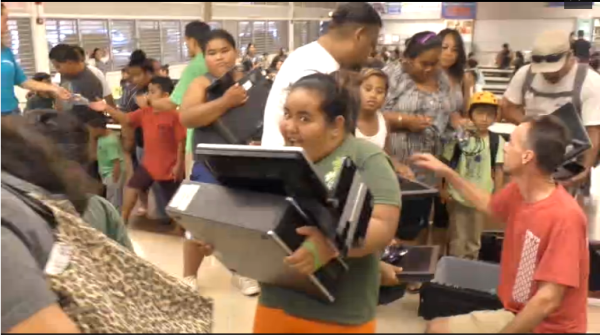 On Tuesday May 16th, 2017, we gave away over 200 computers to the kids of Palolo Elementary School. Every child in the school got a computer
- for the kids to take home - not for the school.


Between now and Christmas, our goal is to put smiles on the faces of 400 children, and give each one of these children the gift of a computer.  This is the type of gift that, at Hawaiian Hope, we love to give.
A few weeks ago, we had 10 extra computers that were prepared and ready to give away. We placed a craigslist ad reaching out to parents with children UNDER the age of 10 who want them.  To our shock, we had over 200 requests for those computers in just a few days!!! We had to take the ad down!!!
For every $25 you donate, we can refurbish a computer and put it into the hands of a child who desperately need them for school.
People often ask - "What do you guys do with all of those computers you get as donations ?"
Our Answer ?
We change lives.
Consider what this donation means to the children receiving the computers : How many of those families would be able to afford to purchase a computer for their child's education. We just flooded a low income community with technology that can help them completely alter their life paths. What impact will this have on that community and the individual students over the next 5 years, 10 years and even their lifetime ?
To date we have given away over 1,500 computers, and, we plan to give away thousands more !
If you believe what we do is has a positive impact, please consider making a financial donation on the right side of the page. Every dollar counts !
About Hawaiian Hope :
* Hawaiian Hope is a 100 % volunteer organization. We have no paid staff !
* Hawaiian Hope has NO government grants of any kind. So, Yes, Every dollar you donate goes a long way !
* Hawaiian Hope Org is a fully qualified 501(c)(3) non profit organization. Donations are Tax deductible.
* We are looking for a new home base of about 5,000 square feet.
* Our Internet Cafe Business plan won 3rd place in a non profit business plan competition against 57 other organizations, many with much larger financial backing.
* In our Internet Cafe, We had over 15,000 people through our front door in 6 months.
* Our Internet Cafe kept about 30 kids a night off the street and from getting into trouble.